The Town of Prescott is governed by a Council of seven members - a mayor and six councillors, elected at-large every four years. The current term of Council is from December 1, 2018 to November 14, 2022 with the next election scheduled to take place on October 24, 2022.
Council is the formal municipal decision-making body of the Town of Prescott. Decisions made by Council have a direct impacts on the residents of Prescott. While Council oversees the Town's staff, operations, and services to ensure tax dollars are spent effectively and efficiently, their main role is to lead the Town into the future through strategic planning and community development to create a safe, healthy, and economically vibrant community.
---
Are You on the Voter List?
Are you registered to vote in the 2022 Ontario Municipal & School Board Elections?  Make sure you are on the list and that all your information is correct by visiting voterlookup.ca.  This site allows eligible voters to confirm or update their information, add a name to an address, or change their school support for the purpose of elections.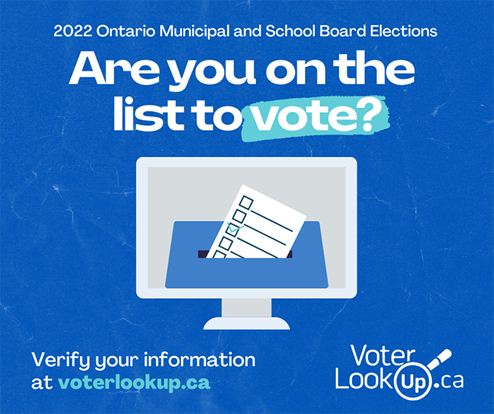 Official List of Certified Candidates
NOTICE is hereby given to the Municipal Electors that during the period commencing May 2nd, 2022, and completed on Nomination Day, August 19th. 2022, the following persons filed all necessary papers, declarations and fees and as Clerk, I am satisfied that such persons are qualified and that their Nomination satisfies the requirements of the Municipal Elections Act, 1996. I have, therefore, certified such candidates for the office which follows their respective name:
NAME OF CANDIDATE
OFFICE
QUALIFYING ADDRESS
Shankar,  Gauri
ACCLAIMED
 Mayor

114 King Street West
docshankar99@gmail.com
613-341-6695

Bunce, Kevin
Councillor

552 Jessup Street
buntzee@gmail.com
613-803-2970

Burton, Leanne
Councillor

922 Woodland Drive
voteburton2@gmail.com
613-498-7828

Campbell, Mary
Councillor

724 King Street West
mcampbellprescottcouncil@gmail.com
613-925-5363

Kirkby, Justin
Councillor

1004 Massie Drive
justinkirkby@bell.net 
613-340-5900 

Lockett, Ruth
Councillor

657-659 King Street West
lockett_ruth@yahoo.ca
613-802-1464 

McConnell, Lee
Councillor

461 James Street West
leedmcconnell@hotmail.com
613-925-4943

Samojllo, Rob
Councillor

460 Wood Street East
r.samojllo@gmail.com
613-620-0459

Young, Ray
Councillor

204-193 Water Street West
rayoung@xplornet.ca
613-340-0342 

Young, Tracey
Councillor

105-180 Water Street East
tracey@irvingmiller.ca
613-349-2689

Zelayeta, Luis 
Councillor 

404 James Street West
zelayeta.construction@gmail.com
613-897-4183
Dated this 22nd day of August 2022.
Signed by the Municipal Clerk - Lindsey Veltkamp  
Declaration of Acclamation to Office - Form EL20
Official List of School Board Trustees
English Public School Board Trustees
English Separate School Board Trustees
Name

of Candidate

Contact Details 

Date Filed

Brent Laton
ACCLAIMED

Massie Drive, Prescott
613-925-3313
brent.laton@outlook.com 

07-June-22
French Public School Board Trustees
Name of Candidate

Contact Details

Date Filed

Rachel Laforest
ACCLAIMED
33 Elizabeth Avenue, Kington
12-May-22
French Separate School Board Trustees
Name of Candidate

Contact Details

Date Filed

Diane Burns
ACCLAIMED

Queensborough Rd., Tweed
613-885-8473
dianeburns99@gmail.com 

24-June-22