Prescott Fire Department>
The Prescott Fire Department service is comprised of 29 volunteer professional firefighters. The Department is led by Fire Chief Renny Rayner. In addition to firefighting and life-saving services, the Department's emphasis is on fire prevention, providing fire inspection, and fire education programs throughout the community.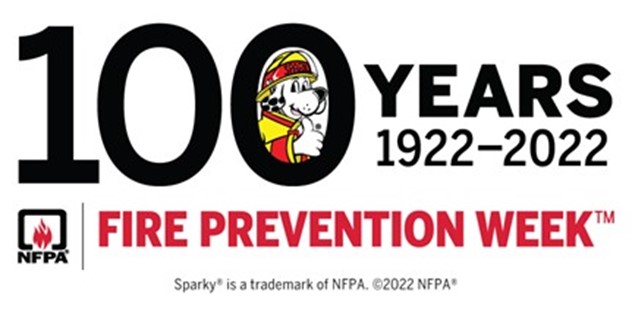 Fire Prevention Week - October 9 - 15, 2022
Fire Prevention Week (FPW) is an international fire safety initiative that is part of October - Fire Awareness Month and this year, FPW and Sparky the Fire Dog are celebrating 100 years of bringing awareness and fire safety to communities everywhere. Cold Lake Fire-Rescue is proud to be a partner with the National Fire Protection Association (NFPA) and help to educate the Cold Lake community on fire safety during Fire Prevention Week - Oct. 9 to 15.  
The message for 2022 is "Fire won't wait. Plan your escape." and Sparky has the following tips to plan your escape:
Draw a map of your home, showing all doors and windows
Visit each room and find two ways out (if possible), making sure each family member can see where to go to get out
Make sure all windows and doors open easily from the INSIDE
Make sure your home has smoke alarms and test them to make sure they are working properly
Pick a meeting place outside near the front of your home for everyone to meet up
Once outside and everyone is accounted for, call a neighbour or extended family, and let them know you are safe
Make sure your house or building number can be seen from the street
Make sure everyone in your home knows how to dial 911
Talk about your plan with everyone in the family and practice your fire drill at least twice a year
2022 Fire Prevention Week runs from Oct. 9 – 15 and the Prescott Fire Department is happy to be celebrating in person this year!
You are invited to join the Prescott Fire Department for our Open House on October 15th from 11 AM – 2 PM.  There will be equipment displays, truck displays, hall tours and a free family BBQ.  We hope to see you there!