Our fire department can help you learn more about fire safety and fire prevention.  If you are looking to educate your workplace or classroom on how to stay safe or to book a fire station tour, please email fireadmin@prescott.ca for more information. 
Please note that we make every effort to provide in-person visits and station tours upon request, but it is dependent on the availability of our volunteer firefighters.
The Ontario Fire Code requires a working smoke alarm on every floor in a home and outside all sleeping areas. For maximum protection, we recommend smoke alarms in every bedroom. 
Tips for best smoke alarm use:
When installing smoke alarms, refer to the manufacturer's instructions for the best placement.
Test your alarm monthly using the test button
Replace alarm batteries once a year or whenever you hear the low-battery chirp
Replace alarms within the time frame advised by the manufacturers, typically within ten years.
The law requires you to have working carbon monoxide alarms outside sleeping areas if you have fuel fire appliances (furnace, water heater, wood stove, gas fireplace) or an attached garage.
If you hear the alarm sound, evacuate your home and call 9-1-1. Do not go back inside until firefighters have said it is safe to do so. 
Tips for best use:
Get an annual inspection of all fuel-burning appliances in your home.
Ensure that outside furnace vents are not blocked
Do not use portable fuel-burning appliances in enclosed spaces.
Test alarm monthly using the test button.
Replace alarm batteries once a year or whenever you hear the low-battery chirp
Replace alarms within the time frame advised by the manufacturers, typically within seven years.
For more information, visit the CO Safety website.
Fire can spread rapidly through your home, leaving you with less than two minutes to escape safely once a fire has started. It is essential to know what to do when the smoke alarm sounds. 
Develop a home fire escape plan – know what to do when the smoke alarm sounds.
Practice your escape plan
Make sure everyone knows two ways out of each room, if possible.
Help those who need it – who will help children, older adults and anyone with a disability.
Get low and go – under the smoke and to the nearest safe exit.
Choose a meeting place outside – a safe distance from your home.
Get out, stay out – never re-enter a burning building. 
Check out our very own mascot, Sparky. Children can learn about fire safety through interactive videos, games and much more. Click here to learn more.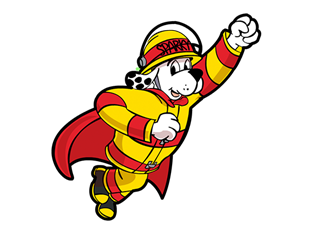 Kitchen safety:
Leaving cooking unattended is the number one cause of home fires. The tips below will help you reduce the risk of kitchen fires:
Stay in the kitchen when cooking, especially if using oil or cooking at high temperatures.
Keep items such as cooking utensils, dishcloths, paper towels, and pot holders away from heat.
Keep children away from cooking areas, and turn pot handles inwards.
Do not wear loose-fitting clothing as it is easier to catch fire – stop, drop and roll if your clothing catches fire.
Enjoy a drink while eating the meal, not preparing the meal as many fatal fires occur when people are impaired. 
Barbecue safety: 
Open the lid when lighting the barbecue with a match.
Keep the barbecue away from combustible items, and never keep it in a garage.
Store propane cylinders in upright and well-ventilated areas
Check the fitting that connects the barbecue hose is not cracked or bent.
Propane cylinders must be certified every ten years.
The use of portable heaters is a practice that is not encouraged by the Prescott Fire Department due to well-documented fire safety hazards in the Province of Ontario. If the heater is an absolute necessity, owners should adopt a policy to ensure they do not create a fire hazard. The policy should be posted in the building and must address the following: 
Have a built-in tip-over overheat protection
Be labelled with a Canadian safety certification
Located at least 3 feet away from furniture, window treatments, bedding, clothing, rugs, and other combustibles
Plugged directly into an outlet. Do not use extension cords
Inspected and cleaned heaters regularly
Be shut off and unplugged when left unattended
Located away from water and out of damp locations
Maintained in originally manufactured condition (i.e. protective screens in place and damaged units replaced)
Be electrically powered. Fuel-fired appliances are not permitted.
Please visit The Office of Fire Marshal website for more information.