Activities & Community Events
The Town of Prescott is proud of its arts, culture and events scene. As we continue to grow and develop, we will be adding new and supporting existing events to our community.
Prescott is currently home to many events throughout the year. Whether it be news from our committee or council meetings, municipal events, BIA or special events put on by local community groups or organizations, we want to share it with you.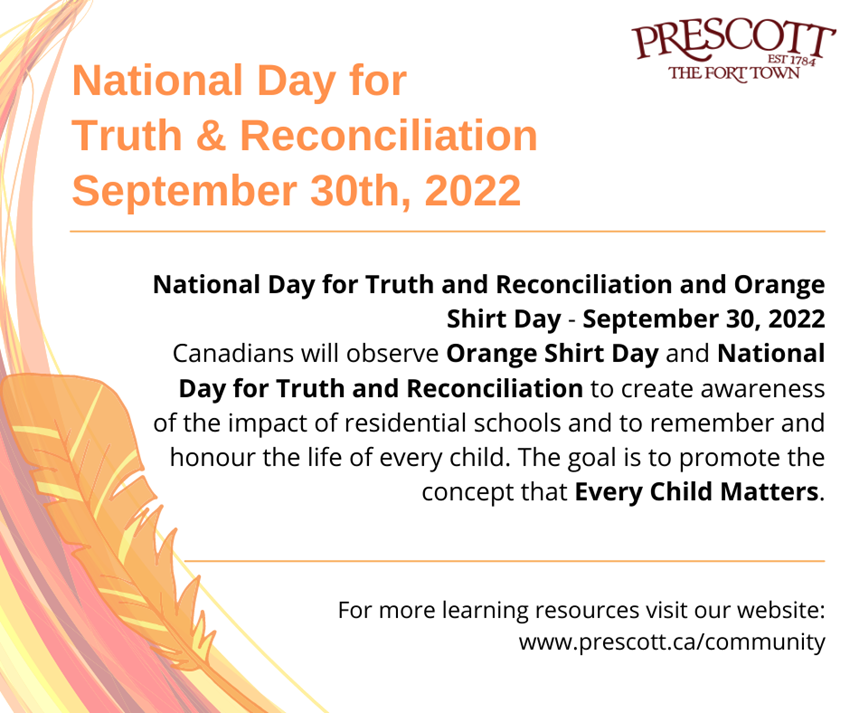 Truth and Reconciliation Week is September 26th-30th, 2022. This is a national program open to all schools across Canada. This year, our theme is "Remembering the Children". For more information about the available programming taking place this week, visit: https://nctr.ca/education/trw/
---
National Day for Truth and Reconciliation and Orange Shirt Day - September 30, 2022
Canadians will observe Orange Shirt Day and National Day for Truth and Reconciliation to create awareness of the impact of residential schools and to remember and honour the life of every child. The goal is to promote the concept that Every Child Matters.
Resources to learn more about Truth and Reconciliation:
Click on the images below to download copies of the colouring sheets and orange t-shirts, or pick one up at the following Town locations during the week of September 26th-30th: Town Hall, the Leo Boivin Community Centre, Walker House, the Museum & Visitor Centre.
Capturing past activities and events